Application
GLFW series sanitary centrifugal pumps can be widely used in the transportation of various liquid materials, such as dairy products, beer, beverages, medicine, biological engineering, fine chemicals and other fields. It can not only transport ordinary low and medium viscosity solutions, but also transport solutions containing suspended solids or corrosive. Sanitary centrifugal pumps are in the form of single-stage, single-suction, open impellers. The pump casing and impeller are carefully designed to reduce the resistance and completely eliminate the dead angle of hygiene. Due to its special structure, the flow rate of the liquid in the pump is increased, thereby improving the overall performance of the pump, and it is easy to clean and has excellent hygienic performance. It can meet product requirements for hygienic, flexible handling and chemical resistance.
Standard design
GLFW pump consists of the following parts: standard motor, impeller, pump housing, sanitary mechanical seal. It features an in-place cleaning system (CIP) design ,Cleanable seal without dead space inside. The GLFW pump has a stainless steel housing to protect the motor and four adjustable stainless steel legs.
shaft seal
GLFW pumps are fitted with a balanced single mechanical seal or a flushable balanced single mechanical seal. The static ring of these two mechanical seals is made of AISI316L steel embedded with silicon carbide or graphite, and the moving ring is made of silicon carbide. The support seal of the flushable mechanical seal is a durable lip seal. The mechanical seal of the GLFW10B GLFW25B pump is a double mechanical seal.
 Material
Contact medium material :AISI316L(AISI304) stainless steel Other parts material :AISI304 stainless steel Exterior surface: Titanium color Interior surface: polished Contact medium sealing material :EPDM ethylene propylene rubber
Technical parameters
Maximum inlet pressure: 0.5MPa Temperature range: -10℃ to 140℃(EPDM) Noise level (1 m) : less than 85dB(A) Flushable seal Water pressure: maximum 0.1MPa water volume: 0.25 to 0.5 L/min Double face seal Water pressure: maximum 0.6mpa water volume: 0.25 to 0.5 L/min Voltage and frequency: 3~50HZ, 220-240V/380-420V/660~690V Motor Model: 50HZ:1.5, 2.2, 3.4, 5.5,7.5, 11, 15KW
Motor

Performance Parameter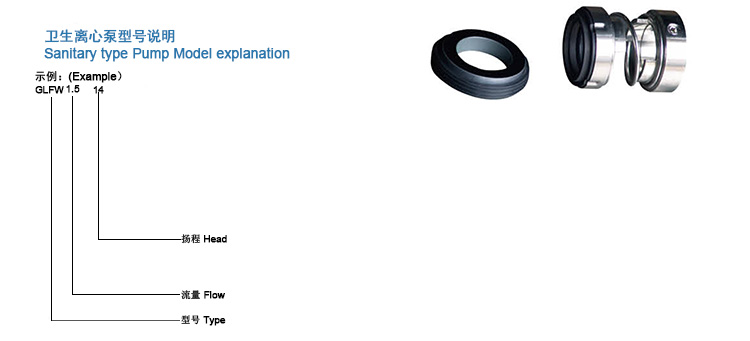 1. The motor is designed and manufactured according to international standards International Electrotechnical Commission IEC34, IEC7 British standard BS4999-5000 Australian standard AS1359-2 German standard DIN4673 Comply with ec "CE" marking requirements 2. The motor meets the following standards GB755-87 GB10069-88 Q/JBQS28-2000 3. Reasonable structural design Flexible wire box 4. Electrical Design Excellent electrical performance Low noise and low vibration High performance protection class The standard design protection class of the motor is IP55 According to user requirements to provide a higher level of protection Suitable for double frequency wide voltage The motor design takes into account voltage variations in different regions Make the motor adapt to multiple areas of voltage use and ensure user performance Improve insulation grade, increase the service life of the motor Three types of mechanical seals are available The external seal is not in contact with the medium
Type Designation