Product Introduction
KTZ pump combines characteristics of both KTB air conditioning and IZ direct-coupled pumps, with improvements in such aspects as selection of structural materials, bearing and shaft seal. Its economic and technical indicators are equal to those of similar products both at home and abroad. It's a type of single-stage single-suction centrifugal pumps,featured by its compact-sized, light weight, high efficiency, low noise,reasonable structure, universality, high reliability and being easy for repair and maintenance. The noise level of the supporting motor is tower than that of common Y-type motors and close to that of imported motors.
Product Application
To transport the medium clear water or other liquids with similar physical and chemical properties as clear water in central air-conditioning cooling systems, water supply of water plants, fire fighting,pipeline pressurization and water supply of swimming pools, fountains or high-rise buildings.
Type Designation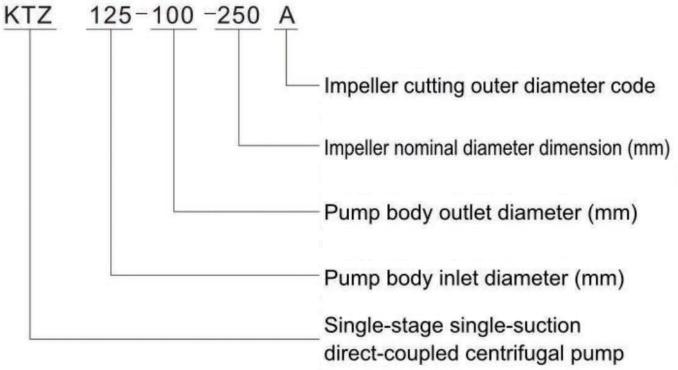 Working Conditions
Medium temperature: <80℃; ambient temperature: <40℃; The working pressure is divided into two levels:1.0MPa and 1.6MPa (please note it in your order to ensure reliable use).
Structure Descriptions
The advantage of a direct-coupled structure is being easy for installation and overhaul. To overhaul it, it's only necessary to move the motor to take out the impeller and other parts instead of moving the pump body and water inlet and outlet pipes. A balance hole structure is adopted to balance the pump's axial force. It adopts an anti-wear mechanical seal device to ensure stable,reliable and long-life operation. It adopts a precision-casting impeller, high-strength shafts and imported supporting bearings. To ensure the product's high quality, the impeller material is optional for anti-wear cast iron or cast copper, subject to working conditions of users (please note it in your order).
Performance Parameter