Executive Standard and Characteristics of Product
BQS (BQW) series flameproof submerged sand and sewage electric pumps for mines (hereinafter referred to as electric pumps)adopt the standard of MT/T67 1-2005 Flameproof Submerged Electric Pump for Coal Mine. The type of explosion proof construction of motor is flameproof marked as Exd I. Researched and developed by ourselves through sufficient market survey, this electric pump is a downdraft flameproof submerged sand and sewage electric pump for mines, which is driven by a late-model energy-saving dry-type three-phase asynchronous motor. Designed and manufactured in accordance with the requirements of explosion-proof standard, it offers strict flameproof measures in its motor and uses steel for motor enclosure, T he unit can not only pump out the surface and shallow water on working faces, but also work under water for long time. This electric pump takes the advantages of compact structure, easy movability, no need of priming water,double end-face mechanical seal, long durability, secured reliability,outstanding applicability, etc.
Type Designation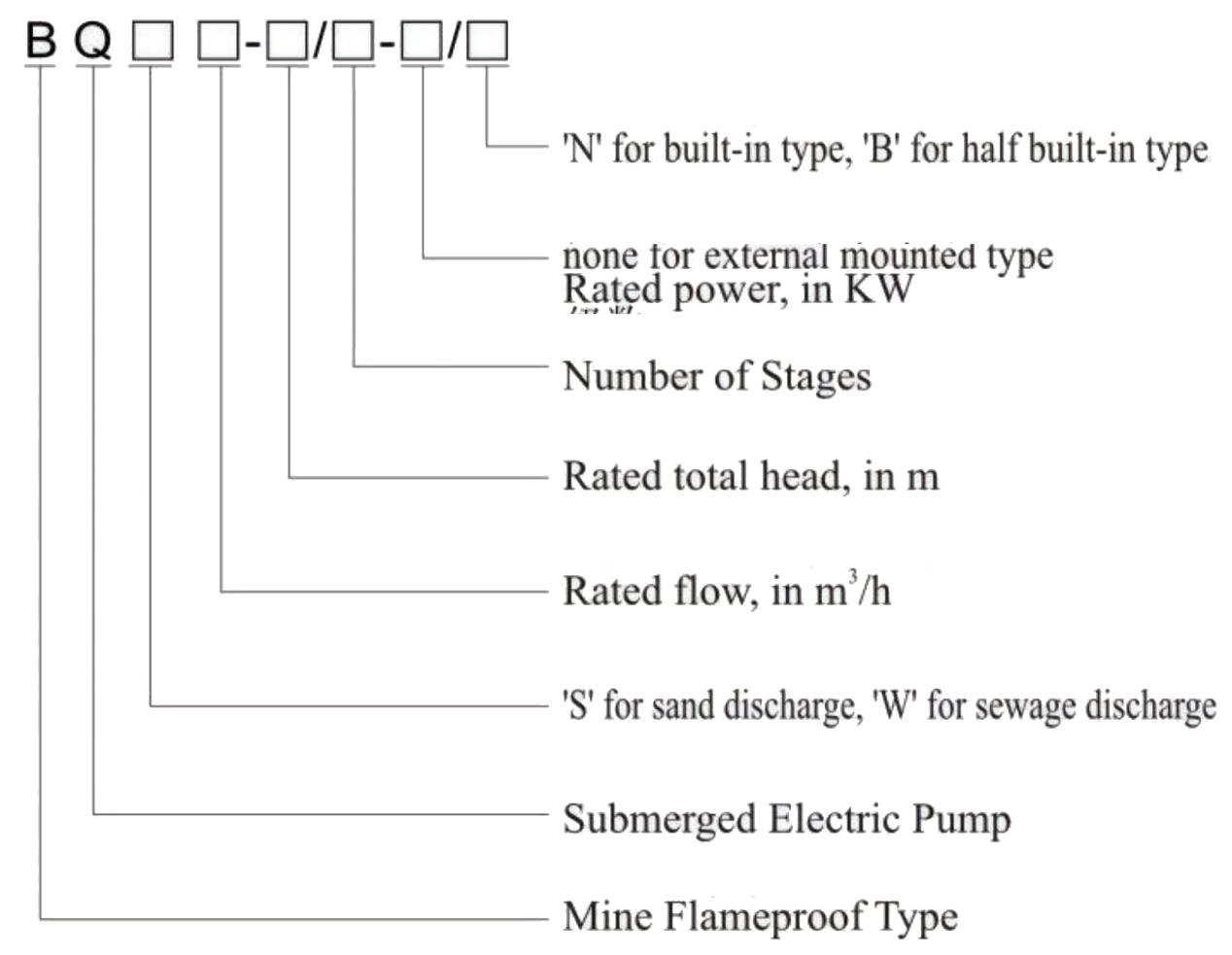 Service Environment and Working Conditions
1. Three-phase alternating current with rated frequency in50Hz, rated voltage in 380V, 660 V or 1,140V (permissible deviation ±5%). (When placing an order, users must specify the voltage value of electric pump). 2. Electric pump may work in shallow water or submerged into water not exceeding 5m. 3. The temperature of media handled not exceeding 40C.ambient working temperature between 0~40C. 4.' The PH value of liquid pumped between4~ 10. 5. The volume ratio of solid impurities contained in water shall not exceed 2%. 6. The diameter of solid particles contained in water shall not exceed the 50% of the minimum size of flow passing section.
Performance Parameters